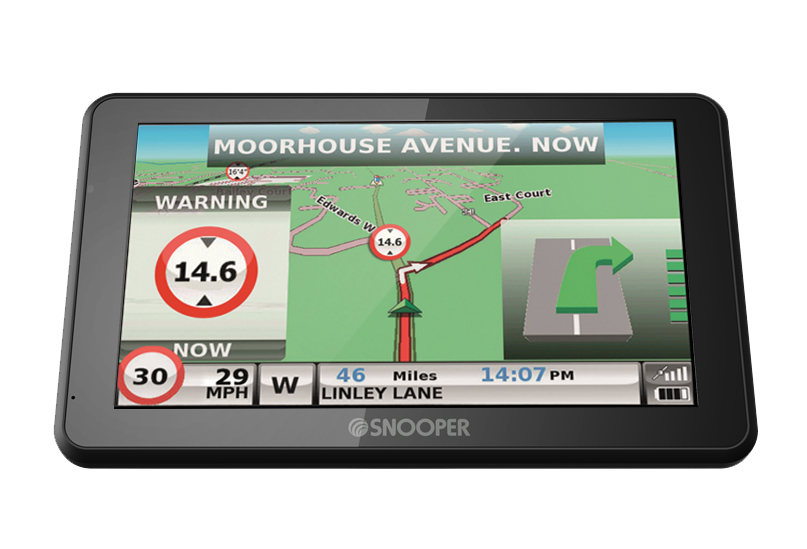 S6900 Truckmate-Pro HGV Navigation System
Free & Next-Day Delivery Available

Hassle-Free Returns Within 30 Days

1-Year Warranty for Worryfree Ownership
Snooper's Truckmate S6900 with active magnetic mount is an advanced satellite navigation system dedicated to safe, efficient routing for professional drivers. S6900 combines our award-winning street level truck navigation, TMC and new active magnetic mount. 
This includes software that provides valuable route planning and information for truckers, which can help improve fuel consumption and reduce costs.
At Snooper, we understand it's hard to keep up with technology updates. That's why we offer free system software software updates*, so as technology continues to evolve, you can be safe in the knowledge that you'll get the most up-to-date software on the market.
*Does not include Here map updates for older units.*
LCD screen
The S6900's 7' touchscreen is the perfect size for providing clear directions and
routes to drivers of small trucks and large commercial vehicles. Large enough to see, but small enough to not obstruct your driving view
Junction and lane guidance
Full screen images of main motorway junctions are displayed on approach to help truck drivers navigate them safely. Specially formulated software suggests which lane or lanes to use for safe transferral.
Multi-route technology
The sat nav allows you to put in multiple destinations (up to 16) by searching via postcode, junction number or destination. It then calculates the most economical and easiest route for you to take to save time and money.
Truck-specific points of interest
There are over two million points of interest loaded into the S6900, including hotels, restaurants, petrol stations, speed cameras, and cash machines. The sat nav also features Air1 AdBlue Retail Filling Station points of interest.
Vehicle profiles
If you regularly drive different sized vehicles, the S6900 allows you to create up to 10 different profiles, making it easy to switch and change vehicles to provide route information specific for that vehicle.
Free European lifetime map updates
All new Truckmate devices contain full European mapping so you can easily navigate across the UK, ROI and Europe. To ensure your device is kept up to date, register your device here upon purchase.
What's in the box? 
1x S6900 portable satellite navigation system with 7" touchscreen 
1x windscreen bracket with magnetic active powered mount
1x In-vehicle power supply with integrated TMC antenna (12V-24V)
1x USB cable 
1x hard carry case 
1x AV input cable 
*Subscription needed for speed cameras. Sold separately*