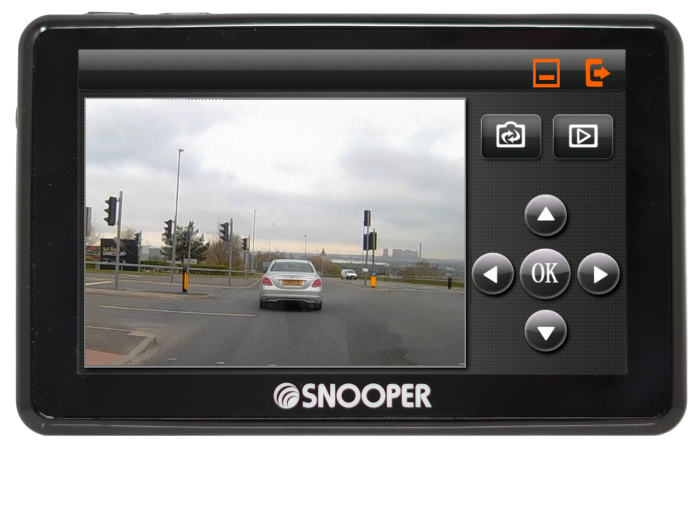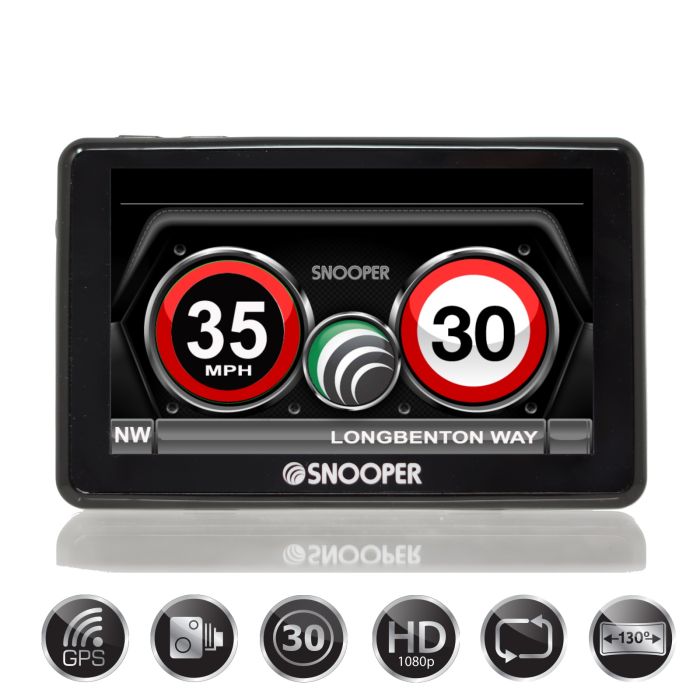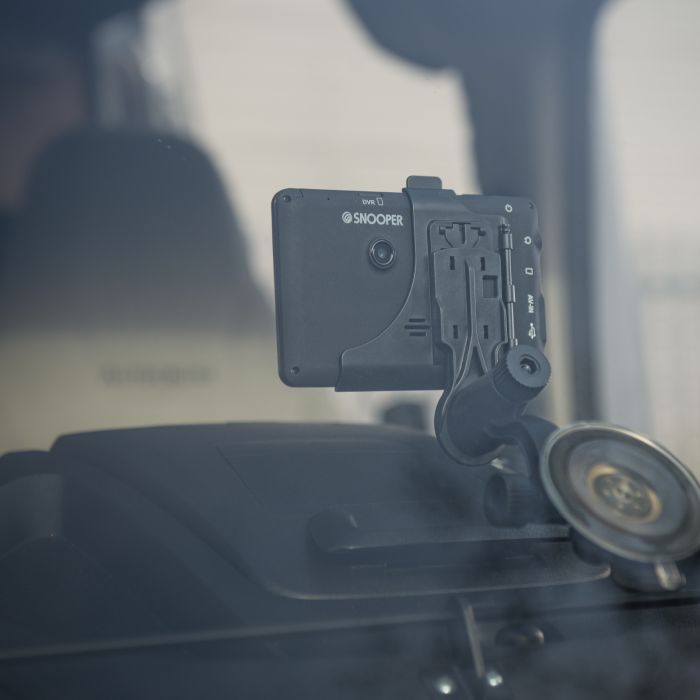 SC5900 My-Speed DVR G3. Speed Limits, Speed cameras, HD Dash Cam
Free & Next-Day Delivery Available

Hassle-Free Returns Within 30 Days

1-Year Warranty for Worryfree Ownership
The Snooper SC5900 My Speed, a drivers ultimate co-pilot!! With its 5" screen and built-in Dash Ca, the My-Speed DVR displays and alerts you to speed limits and changes in speed limits throughout Western Europe! Plus, incorporates Snooper's Award winning GPS speed trap detection technology supplied by AURA™ with FREE speed camera updates.
The My-Speed DVR software will display the speed limit of the road you're travelling, plus your current speed in large format. This aids drivers to quickly see the speed limit and their current speed, protecting their driving licence and keeping them free from hefty fines. The watchful eye of the built-in dash cam will be continuously recording and storing any events that happen whilst on your journey. 
Snooper My-Speed DVR has been launched as our latest driver aid to stand alongside the current range which includes; My-Speed XL, 4Zero Elite, iRadar, DVR-4HD, DVR-5HD and My-Speed Connect.
My-Speed DVR comes with a high definition dash cam. Our latest unit automatically records and saves any vehicle incidents you may encounter negotiating the UK or Europe's vast road network. Ideal video evidence for any insurance claim.
Have you ever been driving along, confused as to what the speed limit is, unsure whether you are in a 30mph or a 40mph zone?  You frantically scan the side of the road as you drive but can't see a speed limit sign anywhere? My-Speed DVR has the answer!
Inappropriate speed is often responsible for many road accidents resulting in serious injuries which sometimes can even be fatal. My-Speed DVR will ensure that you know what the speed limit is on every road you travel on so you can drive safely at all times.

Using the very latest GPS technology and the most comprehensive database of speed limits in Europe provided by Here® they will also supply FREE LIFETIME speed limit updates, this amazing device will alert you continually to the speed limit of the road you are travelling on. If the speed limit changes on the road you are travelling on, My-Speed DVR can be set to alert you both visually and audibly so you never find yourself inadvertently driving at the wrong speed.
Users can tailor their alerts using 'Smart Mute', 'Auto Mute' or 'Over Speed Warnings'
Comes pre-loaded with speed limits covering roads across Western Europe.
UK• Ireland• France• Spain• Portugal• Italy• Austria• Switzerland• Belgium• Holland• Luxembourg• Germany• Denmark• Norway• Sweden• Finland• Poland• Estonia• Lithuania• Czech Republic• Latvia• Liechtenstein• Hungary• Romania• Slovakia• Slovenia• Serbia• Montenegro• Croatia• Turkey• Greece• Albania• Bosnia & Herzegovina• Bulgaria• Rep. of Yugoslavia• Rep. of Macedonia• Russia• Cyprus• Ukraine

Drive Safely with My-Speed DVR
Snooper My-Speed DVR will alert you the moment you exceed the speed limit. Two different attention grabbing displays are shown depending on whether you are driving above or below the speed limit.

My-Speed's green 'safe alert' clearly indicates you are driving safely within the speed limit.

My-Speed's red 'danger theme' clearly indicates you are driving above the speed limit and need to slow down!
Reversing Camera Input
My-Speed DVR can be linked up to your reversing camera and displayed on the 5" screen for easier manoeuvring. Purchase a Snooper reversing camera today and reduce the risk of an accident.
What's in the box?
1 x My Speed DVR portable Dash cam/Speed alert system
1 x windscreen bracket
1 x in-vehicle charger
1 x soft carry case
1 x USB cable
1 x Dash Disk
1 x Video cable
*DVR SD card not included*
See User Guide here.
Key features include:-

MY Speed Software
Built-in HD DVR
My Speed XL
My-Speed® - speed limits
Bluetooth® handsfree
5" full colour LCD touch display
Built-in MSTAR GPS antenna
Built-in rechargeable battery
Physical Dimensions W:134mm x H:84mm x D:13mm
PC System requirements: Windows 7, 8, 8.1 and Windows 10 Mac OS 10 Yosemite and higher
Technical specification
Processor (CPU) MSB2531 800MHz
OS WinCE 6.0
Memory 512MB SDRAM
Memory Card (Navigation) Micro SD Card up to 8GB
GPS Receiver High Sensitivity GPS Chipset
LCD Display Display size: 5"
Display Resolution: 800x480
16:9 TFT LCD
Bluetooth 
Speaker Mono 8Ω / 1W (MAX) speaker
Battery Li-ion battery 1000 mAh
Power 12-24V DC, USB 2.0 OUTPUT: 5.2V DC 1.5A
Operating Temperature range. -10°C.~ +70°C.
Unit Weight - 167g (with built-in battery) 
DVR Specification

DVR Memory Card Micro SD Card up to 32GB
DVR Camera 1080p HD
130° Wide View Camera 
This unit has been designed to provide safety information whilst driving but is not a substitute for driving with due care and attention. The driver is responsible for paying full attention to road signs, road conditions and the proper operation of the vehicle at all times. Always defer to all posted road signs and road conditions.