The beauty of holidaying in the UK and Europe means you're able to take your beloved pet with you, especially if you're caravanning or camping. After all, they're a member of the family too and what's a trip without the entire family. But it can be a tricky task making sure your pet is safe and comfortable in a car while driving. That's why we've shared our top tips for ensuring both you and your pets can enjoy the journey.
Before your journey
Taking your pet away requires a certain amount of preparation. If you're taking your pet, you need to ensure that they can be identified with a microchip, they are up to date on normal vaccinations and they are comfortable to travel.
If you're travelling outside the UK, it is important you take into account travel arrangements as soon as possible. In addition to the above, you will need to:
Have your pet vaccinated against rabies at least 21 days before travelling
Administer tapeworm treatment between one to five days before leaving (and repeat on your return)
Ensure your pet has a passport issued by the vet
Find a suitable carrier that is tall enough for them to stand up in and long enough to stretch out in
It might be a good idea to start getting them used to being in a carrier when they are young, as it will make it easier when it comes to travelling, but you can still teach an older pet to be comfortable, it just might take a little longer.
Top Tip: To get them used to entering a carrier, leave their favourite toys or treats just inside and moving them further back each time.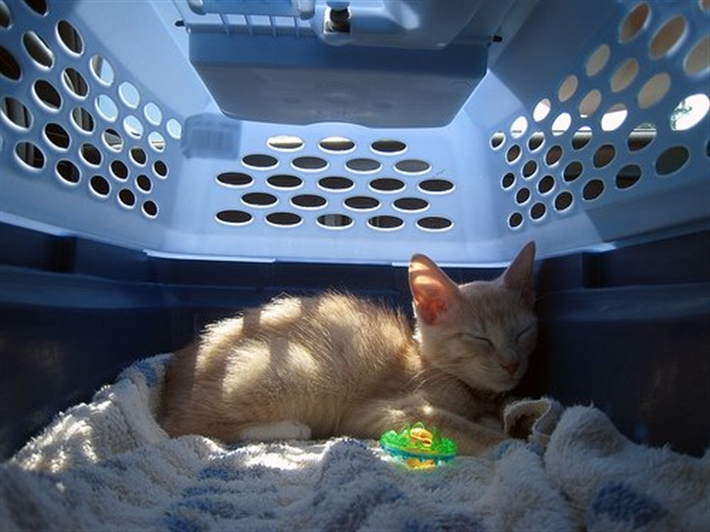 Planning your trip
When you're planning your journey, it's important that you plan regular breaks (every hour or two) to give your pet a bit of fresh air, a toilet break and some exercise to stop them from growing restless. Make sure you have enough water for them to keep them hydrated and bring along some of their toys to keep them distracted and happy.
If you're planning on using the Eurotunnel, expect to pay a little bit extra for having a dog or cat as a passenger. Also, bear in mind that they won't be allowed out of the car while crossing.
Don't let your pet loose in the car
There is a number of reasons why you shouldn't allow your dog or cat to roam around your car while in transit. Firstly, it can be dangerous for both of you as travelling in a car might make them nervous and could hamper your ability to drive as they get in the way of the steering wheel, hand brake or gear stick, or climb underneath the pedals. Also, if you are in an accident and a pet is loose, they will be injured or could injure another passenger.
Pets should either be restrained in the rear seat with a pet harness or be kept inside a carrier secured by a seat belt.
Top Tip: To alleviate a dog's nervousness, spray their bedding with a pheromone spray a few days before setting off.
Don't leave your pet inside a car on a hot day
Leaving your animal in a car, even with the window a little bit open or for just a few minutes, is never safe. Sadly, hundreds of pets are killed in this way every year. If you need to leave the vehicle, you will have to take them with you.
By taking the time to ensure you protect your pet, you can make your time away a much more enjoyable experience.